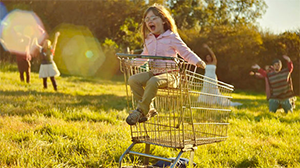 Due to a stunt gone wrong I was forced into an early semiretirement. I'm sure this was part of God's plan because it was about that time that Angela came into my life. She is actually my sons daughter. Angela was taken from the hospital at 4 days old and placed into the Foster System. I got her out of the system to keep her safe until the mother could prove herself to the court. That never happened. I adopted Angela on December 17, 2007 after twenty long months of emotional up's and down's in the court system.
Though I did not know it at the time, Angela SofiaBella was my gift from God. She has filled holes in my life I wasn't even aware that I had. I still have my stunt company and I take jobs that are local that don't jeopardize my neck, but Angela is my priority. I no longer go to parties and jet off with my friends on a whim. I'm grateful I had those experiences. I have lived. But I never felt happiness like I feel it today.
I built Angela a play house on the grounds that is a mini version of the main house. I went WAY over budget and no longer had an income to support my extravagant endeavors. So I started having children's parties to pay for it and that developed into doing other events on the property. It turned into a business. Between the weddings, filming and vacation rental of the guest house I can now be a "stay at home mom" and still have an income. Life is good.
Click On The Above Picture To View Album
Angela VW Super Bowl Commercial
Behind the scenes: Angela shooting her scene for the VW Super Bowl Commercial. It was 32 degrees outside!
Taco Bell Cool Ranch Doritos Locos Tacos TV Spot, 'Ideas'
VW Super Bowl Spot-Supermarket Tantrum Kid
ANGELA DURANTE