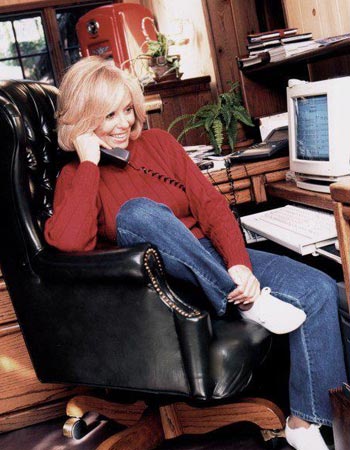 Georgia Durante has packed a lifetime of lessons into her years. Those who have known her for the past twenty years as one of Hollywoods most successful female commercial stunt drivers have been shocked by the truth of her past.
Hollywood producers have known two Georgia Durantes: the steely-nerved stuntwoman with the skill to handle a three-ton high-performance vehicle in high-speed precision maneuvers; and the beautiful model and actress who, at seventeen, was considered the most photographed girl in the country.
They knew only those sides of Georgia Durante because that was all she chose to reveal. Only now does she share the full story of her life, in The Company She Keeps.
Compelling and terrifying, The Company She Keeps tells the true story of Georgia Durantes storybook beginnings in Upstate, New York when at the tender age of twelve, the radiant little girl began her national modeling career. At seventeen, Georgia Durante became the "Kodak Girl" immortalized with her life-size image displayed in more than 80,000 retail stores throughout the world.
Soon the magnetic smile that propelled Georgias modeling career served only to mask the pain she endured from a brutal rape at the hands of her brother-in-law, her first brushes with mob violence, the birth of her daughter, and a failed marriage, all before she turned twenty.
The roller-coaster that had become Georgia Durantes life continued its downward ride as she met, fell in love with, and married Joe Lamendola, a respected businessman, but one with a dark secret and ties to the Syndicate.
Georgia Durante's retelling of the facts paints a picture of a victim hopelessly caught in a web constructed of her own emotions as well as the abuse and threats of the tyrant whose wife she had become.
Suspense and intrigue abound as Georgia recounts the fighter she became in response to her surroundings. She, alone, determined the fate of the madman who had stalked her and kidnapped her daughter.
Georgia Durantes constant search for meaning and the life she had always sought but could never quite find, manifested itself with many heartbreaking turns. Along the way, she faced with:

Tragedy in her life and those whom she loves

The struggle of a child with a drug addiction

Fortunes made and lost

A confrontation with the "prince of darkness" which ends in death
The Company She Keeps is powerful and raw; a deeply personal account of one womans life. Model, Mafia wife, victim and victor, Georgia Durante saw the worst that life had to offer and escaped it. She embraced the positive, but kept the negatives so as never to forget. "Life is what it is," Georgia writes. "How we deal with it is what matters." She has dealt with it the only way she knew how: with determination and courage.
With her company, Performance Two, Georgia Durante has performed in hundreds of national and international television commercial campaigns. Her clients include all of the major automobile manufacturers as well as many of the most recognized brands and products in the world. Additionally she has appeared in numerous feature films and network television shows.
Today Georgia travels around the country to tell her story to women so they can learn from her experiences. Click here for information on domestic violence and avenues of help.
Georgia Durante continues to make her home in Southern California.